Chinese student A
(From Nov 2019, "IELTS Intensive Course"(5 weeks attendance))
Her score has really improved.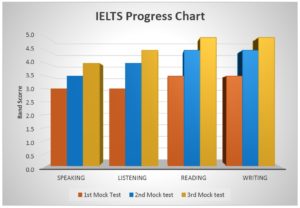 【Comment from Student A】
Some subjects are difficult for me, but teachers taught me with patience and enthusiasm. My favorite point of CET is that the staff feedback quickly when I have questions.
★Guarantee Course for IELTS★
You can avail Guarantee Course:
・There is a designated entry date once a month according to the schedule of the official exam
・There's a required score for students in order to enroll. The student must get 3.5 score for him or her to enter the class.
・If you meet certain conditions, you can take classes for free until you reach the target score on the IELTS test.
*only classes are free, but you need to pay the miscellaneous fee. (ex. visa extension fee, accommodation fee, etc.)
★Application conditions★
① Apply for 12 weeks or more.
② Class attendance rate is over 95%.
③ Up to 2 violations of school policy.
④ Homework submission rate is over 90%.